Apple iPhone 6, Space Gray, 16 GB (Unlocked)
Apple iPhone 6, Space Gray, 16 GB (Unlocked)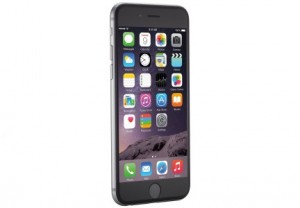 Price: $702.77 & FREE Shipping
Of 706 individuals who purchased this item, 544 rated the Apple iPhone 6, Space Gray, 16 GB (Unlocked) at 5 star.
Visit Website
I went from a iPhone 4s to a galaxy s5 then to the iPhone 6 and it is by far the best phone I have ever had. It is very fast and responsive. The camera is excellent and does not have the delay that the s5 had. The finger print scanner is excellent and a feature that is surprisingly useful. You can unlock your iPhone with it or purchase stuff online with just your finger print. I know the s5 also has one but it is years behind and can only be set up with one finger where the iPhone you can set multiple fingers which makes it nice if you switch hands while using the phone. Also you have to swipe to unlock the S5 which can take multiple times to do where is the iPhone really takes more than a half second touch and unlock. The battery life for me was about the same as on the s5 although I did like the power saving mode on the s5 which iPhone does not have. The charging time on the iPhone seems to be about half the time it took to charge the galaxy S5 though so it's nice to know if you can plug it in for a few minutes you can charge about a percent per minute where the s5 was about 1% every two minutes. Another thing I prefer on the iOS system is Siri which is also years ahead of Google talk. Much more useful, understands me better, many more functions and just much more refined. If you're on the fence for a new phone the iPhone six will not disappoint you.
I wasnt sure about buying the iphone because for one, its the expensive, and two, andriod phones have come a long way in features and apps. Its sometimes extremely hard to compare these phones, when it comes to battery life, pixel density, screen size and build quality. I used […] to help me compare, and I would recommend checking this out if you are serious about buying an iphone or one of the samsung galaxy phones.The great thing about buying an unlocked phone is that you never have to worry about your contract again, and can switch carriers whenever you see a better deal elsewhere. Also using the phone in other countries is no issue!
So I made the switch from using Android to the iPhone back in October, and I've been using the iPhone 6 for the past few months now and can give a detailed review on what it's like to switch over. Before this switch, I've used the Samsung Galaxy S2 (first smartphone ever!) and also the Nexus 4. Since I'm a tech enthusiast, I'm well versed and have played around with many other Android devices, including all the big names, Galaxy S5, HTC One M8 and M7, One Plus One, and so on. Here are my thoughts:
Things that the iPhone does really well (both hardware and software-wise):
1. Camera. The behind the scene software for digitally capturing an image is definitely the strongest sell for the iPhone. Other than the S5 and Note 4, no smartphone really comes close to having the same kind of image quality (no matter the megapixels) compared to the iPhone. This was one of the reasons for me to switch over since I've started to dabble with photography and wanted a really good camera in my smartphone. (Side note, if you read a lot of tech blogs, there is a notion that in the near future our smartphones won't accurately describe our devices anymore since making a phone call is probably one of the least commonly used features on a smartphone when you look at any average user. Cameras, social media, emails all take a higher usage rate than making a call… really interesting, but anyway, back to the review).
2. Reliability. There have been maybe 2 or 3 times when my phone crashed and would have to be restarted, mostly due to playing some game that was not written very well for the iOS devices. On Android devices, I've experienced a lot more crashes, and that may be due to the fact that so many apps haven't figured out the best way to optimize the app for each individual phone due to the fragmentation problems or something else. Either way, I feel like the iOS environment and hardware is more reliable in my everyday use.
3. Fingerprint sensor. Once you've used it, you won't go back. The S5 is not that close yet in terms of usability with their sensor. The one in the iPhone 6 works really well. I definitely have found myself using my phone more because of how easy it is to unlock and install apps.
4. Control of apps. This is an interesting point. In general, you get way more control over how to use and how to integrate your apps on Android than iOS. But in iOS, it's really interesting that you can control the kind of notification that gets sent to your phone, background refresh, location requirement, and access to certain things like photos and camera. In Android, you can do all of this as well, but sometimes for a lot of apps you have to have root access.
5. Double tap to bring down the row of apps. I can't believe no one has thought of this before. A lot of Android phones have gigantic screens, but no one has really figured out how to best get the users to interact with that. You can tap the home button twice on the iPhone to bring down the top few rows of the apps so that you can access them in one hand use.
Here are the things that I miss on Android:
1. Full integration of almost any apps and control of default apps. I can set default apps on Android whereas Apple does not allow that. I can open up photos and upload them to Dropbox or any other app that I choose to, whereas Apple doesn't allow uploading to Dropbox via the Photos app (you have to open up Dropbox, then select upload and then go to Photos from there).
2. Better email. In the mail app for Android, you can attach almost any file on the phone. You can't do that on Apple. You can't even attach a single file. You have to share a file as an email. So, forget about replying an email with an attachment. This is pretty annoying.
3. Productivity is better on Android. If you are a big dropbox user, you probably know and love Dropsync on Android (seriously, best 5 bucks spent on any app). You can have an app that syncs and download any material from Dropbox onto your Android and then sync it back up when changes are detected. It's so seamless. Apple does NOT allow that (mainly because they don't allow background apps from accessing the hard drive, or something along those lines). So you have to download the file you are interested in manually from the Dropbox app. It just slows you down a lot, especially if you get to a part of a building where there is weak signal for wifi or cellular data.
4. Notifications are way better. Why can't Apple make one button that clears all of your notifications? You have to individually close each app's own notification. I pretty much leave my notification screen untouched.
5. Some other things that many already know: Google Now is way better/useful than Siri. Material design looks awesome! Way better widgets and the fact that you can have widgets!! Oh, and you can swipe right on the home screen on Android and that brings another screen from the left side… can't do that on iOS, the home page is set to be the left most one. More customization and etc.
Conclusion:
Overall, I think the iPhone is a fine device to use and you probably won't regret investing in one. The customer service from Apple is top notch, even if their parts cost an arm and leg. I think that, and I hate to say this because it's going to sound like every blog writer out there, the choice really does come down to personal preference and what you use the phone for. So, I've broken down my recommendation based on user case scenarios:
If you are user type…
Workaholic, Students: Android will be the best option unless your company/job dictates that you use an iPhone. The integration with all the apps and the feature with dropbox is just so important to anyone who works on their phones and other mobile devices. I would either get a pure Google device (N5 or N6, I like smaller phones… so N5 is up there) or a Google Edition device, or the Moto X. Samsung and HTC are also good choices but updates may be slow. One Plus One is actually pretty cool. They are not the best when it comes to customer service since they're a small company filling huge demand, but from my experience, the device is solid and definitely a work horse.
Medical and Science community: iPhone. Unfortunately, most of the med and science people rely on Apple products, and a lot of new apps still come to iOS first or are better updated and designed on iOS.
Recreational, use a phone as a communication device and for fun: iPhone. The camera and social apps are fun to use on the iPhone.
For older folks: This is a split. If you've used Apple products before, then iOS will be easy to learn. Android phones have gotten a LOT easier to use thanks to a big push from Google dealing with not only the UI from a software perspective but also from a design perspective. It is more intuitive than it used to be.
Photographer, blogger, foodie: iPhone 6 still has the best selection of apps and arguably the best camera. Samsung's camera is great, but the company is known to really bog down their stellar devices with bloatware that ruins or significantly slows down your phone after 1 year of use. I love the HTC ONE in design, but their gamble on the cameras have not paid off for their customers or themselves.
So was this the right switch for me? As I'm learning more about the iPhone and iOS, I've realized that when the two year is over or whenever this phone dies on me, I'll most likely switch back to Android. While I think I've been thoroughly spoiled by the fingerprint sensor, the productivity that I enjoyed on Android just doesn't replicate itself here on the iPhone. Maybe it's not meant to be a super productive machine, but I guess my main point is that I'd like to have that option available when I need it.
Another side note: Most of the shortfalls of either Android and iOS can be bypassed via means of rooting, custom ROMs, and jailbreaking (in the case of iOS). And I do understand that a lot of people enjoy doing this and can get their phones to work fantastically well. I used to do a lot of customization and go through ROMs once every three days on my Android devices, but I've come to realize that I'd rather spend that time using the device than customizing it. So, nowadays, I just want my devices to work right out of the box. The little details like a great camera, fingerprint sensor, and the ability to have my dropbox synced on the go and a good notification system should all be there when I turn on my phone.
Summary and TL; DR:
So there you have it. An Android user's thoughts on using the iPhone 6. Do I have regrets switching over? After using my friend's One Plus One and seeing Material Design on my old N4, I definitely regret it. But for now, the iPhone 6 suits my needs, even if there are occasional frustration points. If you are an Android user, please consider all these points and google similar stories before switching.
Also, I'm one of those workaholics and forever in search of super productivity, hence my review that I'd like to go back to Android. However, I know plenty of people who swear by their iPhones for productivity. If you are always connected and depend on a suite of iOS specific apps (including apps that are better designed or work better on iOS), then chances are you love the iPhone. There are plenty of things to like and love about either OS. It really does come down to personal preference.
***UPDATE 2/9/15: I got to try the new Outlook 2015 app by Microsoft, and it has alleviated a lot of the email/attachment issues that I have mentioned above. It allows you to sign into your Exchange, Outlook accounts as well as your Gmail, Yahoo, and iCloud emails. You can also integrate your OneDrive, GoogleDrive, Dropbox and Box accounts, and that's where the magic begins. Once integrated, you can attach any file located in those drives, which is great! You can also attach files that are attached in emails that are already in your inbox! And, you can now reply an email with the option of attaching a file. Finally, you can decide if you want to open up links from emails in Safari or another browser installed on your phone (so, you are no longer bound by default Apple apps). This is a huge step forward, and it's from Microsoft (a pleasant surprise). ***This app has really improved my productivity needs, since when considering the iPhone we have to take into account the hardware and the software/app ecosystem, i think this makes sense to bump up the rating to 4/5. There are still kinks when switching over if you are used to productive flexibility on Android phones, but right now the 3rd party apps are getting better and better at work-arounds.
This is my 2nd iPhone (Verizon), coming from an iPhone 5.
I'm an Apple enthusiast so this was an obvious choice for me.
Overall, the phone is awesome but I not necessarily suggest anyone immediately upgrade from the 5/5s unless they are compelled to do so.
It is fast opening and closing apps, websites, etc. but not a huge difference to make me suggest to hurry up and buy it.
I only got an iPhone 6 because my daughter was in need of her first iPhone, so it made sense to give her my old iPhone 5.
The screen response is perfect and the thumb print works 90% of the time and is really convenient to get into the phone.
There are a few shortcomings, however:
1. The protruding rear camera lens is just stupid – so you really can't set the naked phone on its back without worrying about it.
2. The rolled edges on the glass are just stupid – this means that a screen protector cannot go edge to edge. It also means that most any case will have a gap between it and the glass at the eye of the case.
3. Too thin – yes, this phone is too thin – hence the protruding rear camera issue. Thinness also contributes to making the phone very slippery and very easy to drop. Maybe that is what Apple wants – drop the phone often so you have to replace it often?
4. Confounding the thinness issue are the rounded edges. Rounded edges make many cases very easy to slip off, or at least not fit as snug as they otherwise could.
5. Not case friendly: Thin + round edge + rolled glass edges = a very unfriendly phone to accepting cases and screen protectors. Overall, I find the old iPhone 5/5s much easier to fit a case to it and install a screen protector.
So, the iPhone 6 is a very cool device. For everyday use like email and Internet, I really do not notice any speed difference, but some web pages open slightly faster. Buy this phone for increased screen size. I like the screen size, but would probably have bought a smaller (normal?) screen if they made that – the added size does make it a bit less "pocketable." The 6+ seems like it would be too large for most folks – where do you carry it? I ended up with the Otterbox Defender case, BTW, and it seems to work out fine and is very protective and still fits in my back pocket, shirt pocket, or cargo-pant pocket (I drop my phone a lot, so it suits my needs).
I use it for work, play, investing and checking stocks, pictures, video, texting, notes, to-do list, play guitar with iRig, music, emergency flashlight, reading news, reading Kindle books, watching YouTube and Amazon instant video, running apps, hands-free phone in car, and the list goes on and on. What other purchase on the planet enables so many things to be done with it? A smart phone is a no-brainer, really. So, at this point I will always have an iPhone. And my wife and daughter have iPhones too. Just so convenient on so many levels and essential to stay in touch in a busy lifestyle. Pictures do seem crisper with this phone. You can't go wrong with this device. Period.
But that does not mean it is perfect – the physical deficiencies I have noted, IMHO, are a step backwards for this device, performance aside. The protruding camera, really, by today's standards and by Apple's design theme of sleekness, is just stupid and very unexpected. But, at the end of the day, it is an iPhone and functionally it does exactly what I have come to expect it to do.